hPa, waterproof bag specialist
hPa offers a complete range of luggage and waterproof backpacks for all aquatic and outdoor activities requiring perfect protection of your equipment. Backpacks, tube bags, for fishing, sailing, kayaking, biking: the HPA range covers all needs where sealing matters.
The waterproof bag is part of the basic equipment for any trip out to sea or even on the beach. It will protect your business from the aggression of water, dust or sand. For any excursion or hike, a waterproof bag will keep your gear away from rain and moisture. You will then have the choice between 2 solutions: take a completely waterproof bag, but that can sometimes seem a bit heavy for several days of steps, or use light bags such as stuff sack to fit in a normal bag and turn it waterproof .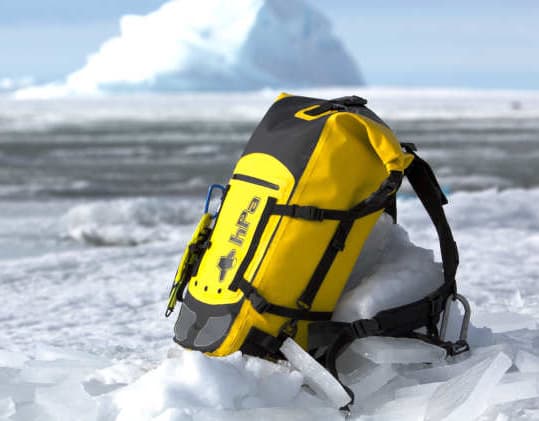 How to choose a waterproof bag
Depending on the type of bag, the closure mode differs. There are "rolled" type closures also named "Roll Top", widespread on tube bags, and "zip" type closures, more suitable for a duffel bag. The "pinched" closures (bars that press the walls of the bag to seal) are reserved for waterproof pouches.
hPa now offers backpacks with waterproof zips. These bags are resistant to prolonged immersion.
The different criteria for choosing a waterproof bag are its shape (duffel, backpack, pouch ...), its volume, its material and its type of closure that will ensure its level of tightness.
The choice of a waterproof bag must take into account several criteria that will depend on the use and level of tightness sought.
The main criteria are:
the level of tightness
the type of bag (backpack, duffel ...) and its type of closure
the volume of the bag
The level of tightness:
The level of tightness of a product is identified by its IP protection rating. If you would like to know more about the protection ratings, consult our guide regarding sealing standards
We will go through the main uses of a waterproof bag here and associate the recommended level of IP protection. Of course, an IP index higher than the recommended index will also be perfect for use.
| | |
| --- | --- |
| Urban biking | IPX4 |
| StandUpPaddle | IPX6 |
| Kayak | IPX6 |
| Rafting | IPX6 |
| Nautical activities | IPX6 |
| Hiking in wet countries | IPX5 |
| Speleology | IPX6 |
| Military Special forces | IPX8 |
Good to know: no bag with a rolled closure will guarantee a waterproof sealing, regardless of the manufacturer